Rant Master


Joined: October 13th, 2004, 3:25 pm
Posts: 70
Location: NCSU


Kirby's Dreamland 3
Some of you may or may not have heard of this game, as it came out very close to the end of the SNES. Kirby's Dreamland 3 was released for the SNES (that's right, not the gameboy), and took the Dreamland 2 formula and expanded upon it greatly, adding 3 more friends to aid you, and this weird black thing named Gooey that you can summon at anytime to help you, and can be controlled by the second player.

You have the original three animal friends: Rick the Hamster, Coo the Owl, and Kine the Fish. They all play approximatly the same, though now Rick can climb walls and can't inhale, only bite, and Kine can somehow run really fast on land. The three new friends are interesting, to say the least. Least innocuous of the three is Pitch the Bird, who is a little green bird about the size of Kirby. His name is rather ironic, as one of the powers allows you to use an umbrella like a baseball bat and knock him across the screen. Next we have Nago the Cat. He's a blob of fur with a typically cat-like look, and seems to be more in control of situations than Kirby, as he often seems to be using Kirby, as opposed to the other way around. The last friend isn't an animal. Instead it's a pink blob with a red bow (obviously a girl) named Chuchu that can only be described as Kirby's girlfriend. She sits on his head like an amorphous hat as they both give a strangely content look. She might be taken a little oddly, as her abilities seem to stem from the formation of tentacles. So yeah, Kirby is dating a tentacle monster.

The whole game is charming, with it's typical Kirby-style music and this "looks like it was colored by a three-year-old" style to it, sort of like Yoshi's Island. In every level you can do something in order to help some random inhabitant of Dreamland, who range from animate flowers to polygons with faces to Rob the NES Robot. There's even one stage where you have to help Samus Aran deal with some renegade Metroids. Luckily, they're no match for Kirby's with an ice-powerup. Lord only know's how Samus got there, though...

The main villain, like in the 2nd one, is the mysterious Dark Matter, a gigantic solid-black creature with one singular red eye. It arrives Lavos-style as a meteor and promptly begins taking over people's minds, namely Dedede's (that guy just can't catch a break). Unfortunatly, the final battle isn't faught with the awesome Rainbow Sword from 2. Instead it's some magic rod that shoots hearts. Poo.

The game actually has a fair bit of difficulty, as compared to the others. Some of the puzzles for helping the people in each stage can be a bit frustrating, especially the counting mini-games. Also, the game is a lot stingier with the lives than the previous ones. You won't be walking around with 30 of the things. Indeed, when you turn the game off and come back again, you're automatically set to 2 lives. And I lost quite a few in the process of playing. It's a welcome boost in challenge.

So, that's the low-down. If anyone is interested, I might come back with silly screenshots.
Weirdo Goddess



Joined: October 13th, 2004, 3:04 pm
Posts: 327
Location: The Weirdo Zone


Hell yeah!
Oh please do brother dear as I'd love to see screen shots of that one situation with Kine, Kirby and Chuchu... And the cat, I want to see the cat in action!

_________________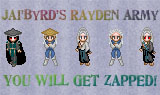 Garbonzo Bean


Joined: January 10th, 2012, 6:00 am
Posts: 3


Re: Kirby's Dreamland 3
Dreamland 3 is incredibly cute. That's the only reason I really like the game, though. Oh, and I fucking love the animal friends.
I was never a fan of how the Dreamland series (DL, DL2, DL3, 64) handled the powers. Having to combine powers with animal friends or other powers is cool for puzzles, but the single-action powers (meaning, not having multiple attacks while holding up or down or jumping and using the power) that you get are kind of boring as a result.
The way Super Star and others handled it was much cooler, giving you multiple uses with a single power (and even combining a couple powers into a single one, like Freeze/Frost and Plasma/Spark).